TOP
> Main Suppliers > Other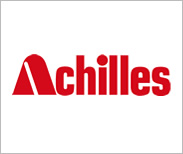 Achilles has developed a wide array of products with its plastic technologies situated in the center as the core. In developing new products and technologies, they always place the question of "what can they do to lead the market?" at the starting point of their thinking. Working with compounding, foaming, thermal insulation, conductivity and designing as core technologies, Achilles' plastics processing technologies have developed products that can contribute to preserving the global environment, such as energy-saving and environmentally friendly materials.
〈Product outline〉
The ST polymer, an essential technical component in the production of parts for personal computers and electronics, is gaining attention around the world for its qualities of environmental friendliness and low gas emissions. They also produce a variety of electronics-related items including EMI shields, heat conductive sheets, and more. As for industrial applications, they have developed RIM molds, which can be utilized in large-scale plastic molding with small lots and larger, and paint masking tools using electroforming technology. At Achilles, they are contributing to all types of fields through technology that leads the way.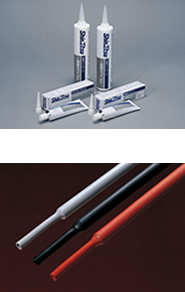 In 1953, Shin-Etsu Chemical became the first firm in Japan to venture into the silicones business. In the decades since, Shin-Etsu has created a diverse line of products designed to exploit the unique and useful properties of silicones. Today, our offerings include over 5,000 products that meet user needs in a wide range of industries, including electric/electronics manufacturing, the construction industry, the auto industry, cosmetics and toiletries, and the chemical industry.

The Company's operations have spread beyond Japan's shores; we now have production facilities and marketing bases in countries around the globe, including the USA, South Korea, China, Taiwan, Singapore, Thailand and the Netherlands. We have organized our supply framework to enable direct access to the world's markets and enhance our responsiveness to customer needs. As a result, we have grown to become the No.1 silicone manufacturer in Japan and one of the leading firms in this industry worldwide.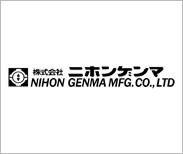 In every aspect of their manufacturing, R&D and sales activities, their fundamental approach has always been to improve the product quality and productivity of their customers, and to put ourselves in their customers' shoes. They thus not only provide high-precision solders and services, but also propose total soldering solutions, including peripheral equipment. Nihon Genma's production facilities enforce stringent quality management under the ISO9001 framework.They work tirelessly to improve their production technology and promote line automation and rationalization fueled by the very latest equipment. The goal is to continue to meet customer needs through superior cost performance. 
〈Product outline〉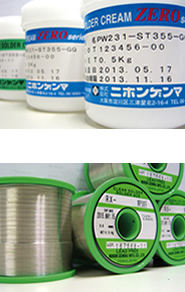 Recently, the interest in environmental pollution has grown considerably, and the adverse effect of lead on the human body has been attracting attention. So far, solders widely used for assembly of electronic and electric equipment have contained lead. The lead component elutes when a large volume of discarded electric equipment is exposed to acid rain, seeping into the underground water and polluting the environment; naturally, this is a significant problem. Throughout the world, regulations on lead concentrations in underground water and waste water are made stricter and the use of lead itself has begun to be restricted. Under these conditions, it is a global demand to switch from the current Sn/Pb solders to "Pb free solders." In Japan as well, the majority of the leading electric equipment manufacturers are promoting use of Pb free solders. In order to adapt to these conditions, Nihon Genma develops Pb free solders to provide modern products that satisfy their customer's needs.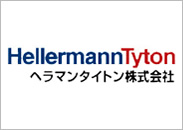 Their corporate philosophy focuses on their customers and their requirements for the best possible solutions to all their cable needs. They have around 3,000 employees working on the development of product innovations in cable management and offering you first-class service and excellent advice whenever you need it.
〈Product outline〉
Cable ties are used in many industries: in the electrical installation, in harness making, in the construction industry, for preliminary installation purposes, in the packaging industry or under extreme environmental conditions like in the offshore industry.

HellermannTyton is a global manufacturer who offers high performance fastening, connecting, routing, protecting and identifying solutions to diverse markets. For their customers they develop market solutions that uniquely meet an industry's needs - solving an application requirement, saving installation and component costs, and improving the quality of the end product - no matter what your industry.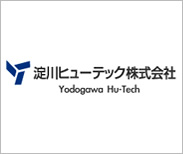 Yodogawa Hu-Tech was established in 1964 when the Tokyo Olympic Games were held. Starting from fluororesin mold-forming, we have developed into the multidiscipline engineering company in manufacturing various fluororesin-related products and production equipment through providing practical solutions to customer's technical challenges.Hu-Tech is short for Human & Technology, and we hope to contribute to the society by integrating human and technology.New symbol mark shows Y as Yodogawa, and indicates that we always keep rotating and expanding.
〈Product outline〉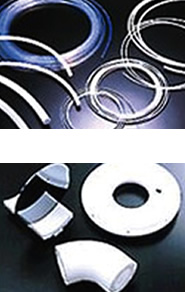 ・Fluorine resin material
Tube materials have multiple applications including piping for high-precision analyzing equipment, urine or blood analyzers, super LSI manufacturing facilities, or as insulating materials for automotive electrical wiring.

・Precision-processed products
Precision-processed products on a micron level are intended to be used in semiconductor equipment whose structure has become increasingly sophisticated. These products can be used in applications such as PFA, PTFE, PCTFE, and PEEK.