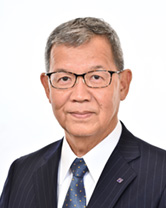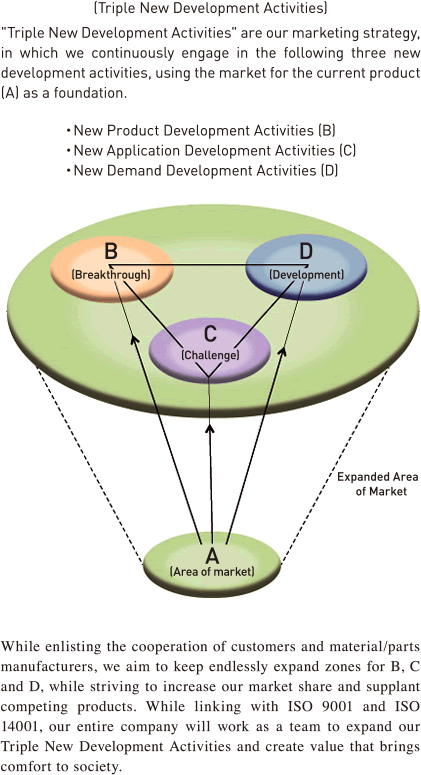 Name
Showa Denki Co., Ltd.
Established
November 8, 1962
Products
1. Sales of electric insulation materials,
  electronic parts, cables and automated parts
2. Sales of general industrial materials
  (packaging materials and protective materials)
3. Sales of cable accessories and electric parts
4. All incidental business to the above
Capital
45 million yen
Board of Directors
Representative Director: Osamu Mitsukoji
Senior Managing Director: Kimiyuki Ueda
Managing Director: Shigeo Takamine
Managing Director: Toshiaki Kurihara
Director: Futoshi Kasai
Operating Officer: Yukihiro Kosaka
Operating Officer: Tomoyuki Nakao
Auditor: Kazuo Wada
Number of Employees
72
Main Banks
Umeda Branch, Sumitomo Mitsui
      Banking Corporation
Osaka Umeda Branch, The Bank of
      Tokyo-Mitsubishi UFJ, Ltd.
Umeda Branch, Mizuho Bank Ltd.
Umeda Branch, The Shoko Chukin Bank, Ltd.

Affiliated Companies
Kusatsu Showa Tech Co., Ltd.
Showa Tech. Co., Ltd.
Showa Electric Singapore Pte., Ltd.
Showa Electric (HK) Ltd.
Showa Tech Malaysia Sdn. Bhd.
Showa Denso Co., Ltd.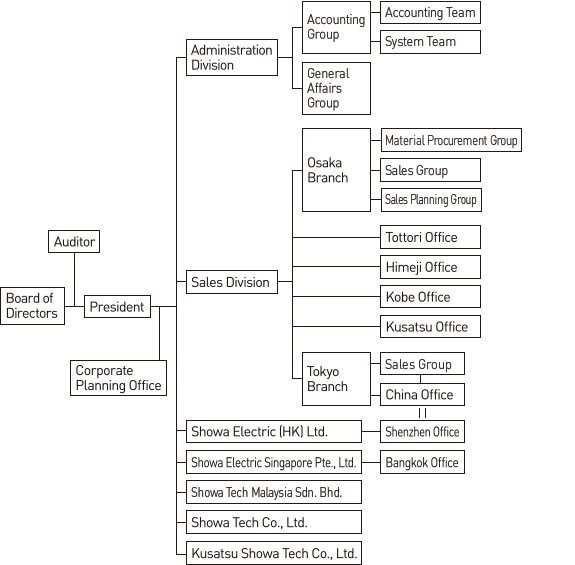 | | |
| --- | --- |
| 1954 July | Established as Showa Denki Firm at 3-87, Tosabori-dori, Nishi-ku, Osaka. Started wholesale of insulation material. |
| 1962 November | Established as Showa Denki K.K. at the same address as above with capital of 1 million yen in order to expand the business and modernize the organization. |
| 1964 February | Moved head office to 5-24, Nakatsuhama-dori, Oyodo-ku, Osaka. |
| 1968 July | Increased capital to 2 million yen. |
| 1969 June | Increased capital to 5 million yen. Shifted head office to 5-29, Nakatsuhama-dori, Oyodo-ku, Osaka. Built a new building. |
| 1973 March | Established Kusatsu Kako K.K. |
| 1973 April | Opened Kusatsu Office. |
| 1973 May | Increased capital to 10 million yen. |
| 1973 July | Opened Kobe Office. |
| 1974 December | Opened Tokyo Office. |
| 1980 June | Increased capital to 20 million yen. |
| 1985 July | Increased capital to 30 million yen. |
| 1985 December | Moved head office to 7-4-8, Nakatsu, Oyodo-ku, Osaka. Built a new building. |
| 1986 August | Opened Tottori Office. |
| 1986 December | Established an overseas affiliated company, Showa Electric Singapore Pte., Ltd. in Singapore. |
| 1988 November | Opened Himeji Office. |
| 1989 February | Changed address of Head Office from Oyodo-ku to Kita-ku. |
| 1992 July | Increased capital to 45 million yen. |
| 2000 December | Established Showa Tech Co., Ltd. |
| 2002 February | Changed the name of Kusatsu Kako K.K. to Kusatsu Showa Tech Co., Ltd. |
| 2002 November | Head Office obtained ISO 14001 certification. |
| 2004 November | Head Office obtained ISO 9001 certification. |
| 2009 May | Established Electronics Products Department at the Tokyo Office. Opened China Office. |
| 2011 September | Established an overseas affiliated company, Showa Electric (HK) Ltd. in Hong Kong. |
| 2011 November | Established a representative office of Showa Electric Singapore Pte.,Ltd. in Bangkok. |
| 2014 April | Promoted to Branch from Tokyo Office. |
| 2014 December | Established an overseas affiliated company, Showa Tech Malaysia Sdn. Bhd., in Malaysia. |