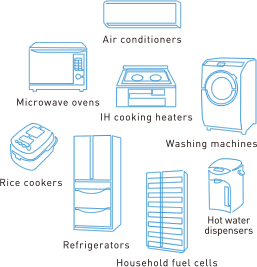 Showa Denki offers a wide variety of items ranging from design, structural, and electrical components used in products such as household appliances and electronics that are close to our daily lives, to resins and other electrical materials. In response to the needs of users, we propose optimal items by making the most of our global network. By considering all sorts of combinations of technologies, as well as the features of all sorts of products throughout the world, we formulate unprecedented new plans, and execute them up to the assembly step. Showa Denki responds to the customer need "Can this be achieved?" by acting as a connection point, or "joint," for the information that allows us to "Achieve this and much more."

Ferrite cores
Flexible printed circuits
Speakers
Metal pressed products
Electro-conductive trays
Printed circuit board units 
Dampers
Power supply cords
Light emitting diodes
Wire harnesses
Flexible flat cable
Rubber molded products
PET silk-screen print products
Shafts
Plastic fasteners
Heat insulation materials
Mica
Punching machined products
Noise filters
Heat sink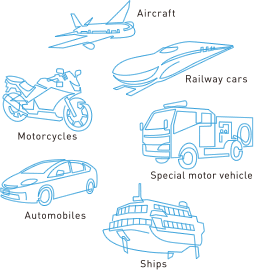 With a focus on rail cars, we supply an extensive selection of products, ranging from interior materials which are highly visible to passengers, to underfloor outfitting which is rarely directly seen, and thereby play a role in supporting safe, secure, and comfortable operations. Also, in addition to existing products from various manufacturers, we carry out product development suited to ever-evolving market needs through tie-ups with manufacturers, and we are actively making efforts to go beyond the domestic market, and contribute to the overseas expansion of Japanese-made rail cars with outstanding safety and environmental performance. We constantly pursue efforts to make the possibilities our customers have conceived into a reality by diligently responding to their needs expressed as "Can this be achieved?"

Fiber reinforced plastic molded products
High-function resin processed products
Cable accessories
Metal pressed products
Electro-conductive trays
Multi-function resin and rubber products
Tapes, adhesives, silicone and other industrial materials
Connectors, terminals, screwless terminal blocks
Onboard service electronics
Electric wire and optical fiber
Sliding components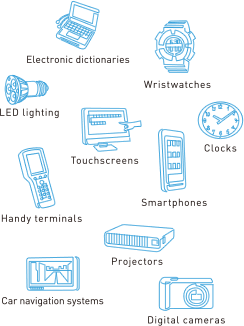 While focusing on contract manufacturing and sale of electronic components and devices, particularly LED-related devices, we are currently engaged in broad expansion to production bases in China and other Asian countries in order to meet customer needs, based on our previous wealth of experience and track record, and we achieve high cost efficiency through a simple, waste-free structure based on information gathered through our overseas network. We constantly strive to create unique, new businesses, while we offer design and manufacturing services, and consistently propose better products. In addition, we are working to develop our production management systems, and thereby achieve higher production efficiency and speed, in areas ranging from high-diversity, low-volume production of items such as prototypes, to mass production of large lots. In this way, we offer total solutions suited to diverse customer needs.

FPCs and PCBs (multi-layer), PCB and FPC assemblies (mounted products)
LED-related products
Optical film processing
Touch panel displays (CTP/OGS, RTP)
Glass and resin lens processing, tempered glass (CG)
Liquid crystal (TN, STN, FSTN, TFT)
LED-backlight units, ultra-thin light-guiding plates
LED lighting, heat sink units
Aluminum, zinc and magnesium alloy formation
Electronic components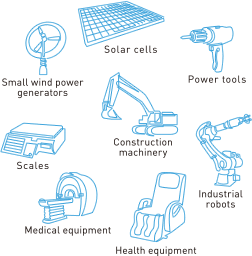 We contribute to creating more affluent living for society by connecting between the users who support the growth of a broad range of industries and the best manufacturers to meet those needs, and thereby supply optimal products. These products include the weight measurement scales often seen in retail stores, tools used in the home, construction machinery essential for infrastructure development, new energy systems such as solar cells and wind generators, and medical equipment. At Showa Denki we always stand by our customers, and are ready to speedily respond to a variety of needs. In the future, we will continue to expand possibilities by broadening connections.

Resin molded products
Transformers
Heat sinks
Flow sensors
Fluorocarbon resin products
Heaters
Wire harnesses
Punching machined products
RF connector assemblies
Fan motors
Slip rings
Optical transceivers
Large current connectors
Photoelectric sensors
I/O system equipment
Wireless modules